Congratulations, your resume made it into the hands of the hiring manager, and you've landed a job interview! At each stage of the job search process, there are so many factors to consider, and the interview is no exception—and arguably the most important part. So, how can you prepare for an interview and ensure that you leave the hiring team wanting more?
An interview isn't just about speaking to your experience, though. As career expert Jacob Share says, you also need to know how to sell yourself to the interviewer. This requires preparation and research ahead of the meeting. Keep reading for the ultimate guide on how to prepare for an interview.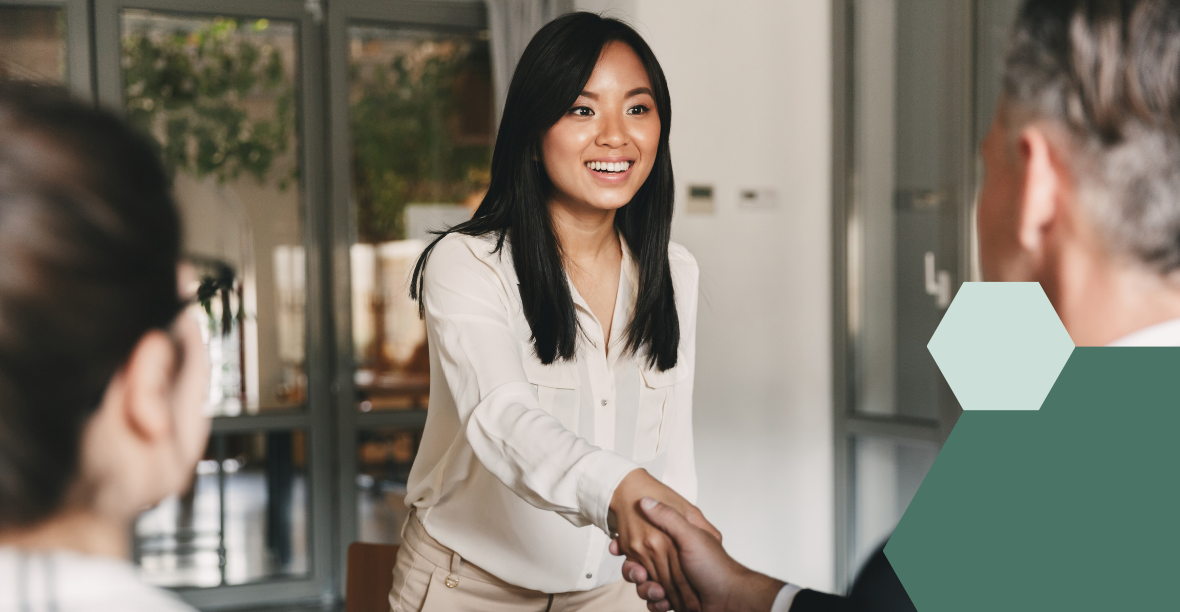 Jump to section:
Types of interviews
Every interview is unique. As you move through the interview process, you'll see how each stage can offer different questions and require different responses in return. Additionally, the point in your career can determine how you approach the process as well.
Read also: How to ace 5 different types of interviews
The phone interview: The phone interview is typically conducted by a human resources professional, and they're looking to screen candidates they have deemed qualified based on their application. This is typically the first step in the interview process. These are typically introductory calls, and understanding how to approach a phone interview can help you get to that next step.
Second interview: While your first interview was likely more of a screening, the second interview is where you can really dive into the details and ensure that this is the right fit for you and the organization.
Video interview: At any stage in the interview process, you may be asked to join the interview via video call. While interviewing from the comfort of your home is nice, this may come with its own set of challenges, so be sure you are camera-ready for the video interview.
Personality test: When a hiring manager is evaluating you for cultural fit, they may ask questions to see how you might collaborate with people, communicate with others, or handle tough situations. Understanding how to respond to those personality questions can help you alleviate any cultural fit concerns.
Final interview: It is a real accomplishment to make it through several interview rounds and come out on top! Making it to the final interview or an interview with the CEO means that you've gained the trust of potential managers, and you've proven you can do the job—now it's time to seal the deal in the last meeting!
Career change interviews: If you're going through a career change, you may want to be extra prepared for interviews in your newly chosen profession! Be sure that you anticipate common hurdles and address them well as you navigate this transition.
Industry-specific interviews: Not every industry is alike! Depending on your profession, the industry you work in, and the types of organizations you are interviewing for, you may want to adjust your strategy! See some of our highlighted industry-specific advice:

Healthcare:
Technology:
Accounting & Finance:
Human Resources:
Before the interview
Before the interview, it is important to prepare several items, from answers to interview questions, to wardrobe and logistics, to thorough research. Here's a few things you may want to keep in mind:
Read also: The complete guide to company research
Understand the job description: Before you speak to your interviewer, be sure to study the job description and ensure that you understand the requirements of the role—as well as how your experience applies to what they're looking for. This is a great resource to identify questions you'd like to ask and help you develop your answers.
Research the company thoroughly: Take some time to delve into the organization you're interviewing for! A thorough understanding can not only help you stand out from other candidates, but it can also help you decipher whether this company is the right fit for you. Be sure to research the following:

The organization's service and product offerings
The company's mission and values
What the organization says about joining the team
Reviews from employees on sites like Glassdoor

Plan your commute: If you're interviewing in-person, be sure to plan your commute and travel time, and give yourself plenty of time to arrive early for your scheduled appointment.
Plan your video background: If you're interviewing from home, be sure to find a quiet space to conduct your interview and plan your video background to ensure you give a professional impression.
Plan your wardrobe: Regardless of the location, be sure that you plan a professional outfit. Tip: even if you're on video, opting for a professional head-to-toe look can boost your confidence!
Prepare for common questions: Keep on reading to see all of the questions you can prepare for, as well as questions to ask at the end of the meeting!
Interview questions to prepare for
Preparing for interview questions can feel daunting—after all, how do you know what the interviewer will ask? While you can't anticipate everything, there are standard questions that are asked quite often in interviews, including:
Read also: How to answer 25 of the most tricky interview questions
When you take the time to practice your responses, this allows you to feel more relaxed on the day. Additionally, the first answer you think of may not be your best. Thinking through additional scenarios can help you land on the best response or the best example to give in your answer.
Read also: 8 interview questions you must be prepared for
In addition to the general questions that focus on the requirements of the role and your experience, you may also be asked behavioral interview questions that can speak to your personality and your culture fit for the organization.
Tip: It's not just about preparing for questions you will be asked. Also be sure that you know what is not allowed to be asked! Check out our guide on illegal interview questions so you aren't caught off guard.
Interview questions to ask
After you've been in the hot seat, the end of the interview is your opportunity to ask questions! This is where many job seekers fumble, so it is critical to take your time to ask questions seriously. Keep in mind that your interview is a two-way street. This is your time to evaluate whether this company is the right place for you to work. If you're nervous about remembering your questions, there's no shame in writing them down!
To start, be sure to avoid asking inappropriate or self-serving questions, like "When will I be up for a promotion?" Focus your questions on learning more about how the company and teams operate. This can include questions that point toward company culture, management practices, benefits, and more.
Read also: 15 Questions that will help you stand out in an interview
During the interview
During the interview, there are several things you have to manage at once, aside from simply answering the questions. For starters, calming your nerves can be a challenge for most people. Additionally, there are several easy mistakes that you should watch out for, including:
Of course, if you do make any of these mistakes, there are ways get the interview back on track. However, avoiding these common errors is best.
Additionally, your interview is also your opportunity to win over the hiring manager. While your answers to their questions are certainly the most impactful, your confidence and preparation will also play a key role in making a good first impression.
Read also: How to charm multiple types of interviewers
After the interview
After you've finished your interview, you've done the hardest part! However, the work is not done when the meeting is over. Firstly, you will want to be sure to send a thank you note to your interviewer to thank them for their time.
Additionally, you'll want to make sure to have your references in order if they choose to move forward and ask to call your references or contact a previous employer.
Lastly, depending on the role and the company, you may be asked to complete an assignment after your interview. This can help the hiring committee determine your work style, thought process, and presentation style with a real example from the company. Be sure to put your best foot forward to ace the interview assignment and move onto the final stages of the hiring process.
Optimizing your job search and interview process
As you move through your job search, there are ways to optimize your search and increase your chances of getting an interview or even getting your resume in front of an employer! If you're struggling to land an interview at all, you may want to take a step back and reevaluate your approach.
Additionally, working with a recruiter can give you a partner in your job search who can help you improve your resume and advocate on your behalf to top employers. While there are some misconceptions about working with a recruiter, choosing to partner with one can jumpstart your job search and increase your chances of landing that next interview.