Tandym Group has created this privacy statement to demonstrate our firm commitment to protecting and maintaining your privacy.
*If you're a California resident, click here to view the  privacy policy that applies solely to California residents (as defined under the California Consumer Privacy Act, as amended by the California Privacy Rights Act, together the "CCPA").
Collecting and using information
Tandym Group collects information from our users at several points on this site. This information is used to help provide relevant information to enhance your experience on our site.
Tandym Group is the sole owner of this information; we will not sell, share, or rent this information in ways other than those described in this statement.
Submit Resume
To apply for a job on this website, you must complete an application form. We use the information you provide on this application to contact you about the job opportunities in which you've expressed interest.
Job Alerts
If you want to receive new job listings by email, you must register for Job Alerts on our website. When you create a Job Alert, you must supply your name, email address, and zip code. We then use this information to send you job listings that match your criteria.
How we use "cookies"
A "cookie" is a piece of data stored on your computer's hard drive that contains information about you. This information makes it easier and faster for you to use our site. With a cookie, you don't have to keep providing the same contact information again and again—the cookie "remembers" it. The cookie also makes it possible for us to enhance your experience on our site, based on your needs and preferences.
You can manage preferences for cookies directly from within your own browser and prevent third parties from installing them. Through the browser preferences, it is also possible to delete cookies installed in the past, including the cookies that might possibly have saved the consent for the installation of cookies by the Tandym website. It is important to note that by disabling all cookies, the functioning of this site may be compromised. Users can find information about how to manage cookies in their browser.
Security
Tandym Group takes every precaution to protect the information you've supplied to us. When you submit sensitive information to our website, that information is protected, both online and offline. Our SSL certified website ensures that all data transmitted between the web server and browser remains encrypted. We're also scrupulous about protecting user information offline. Access to all user information, sensitive or routine, is restricted both in our offices and at our hosting facilities. Only those employees who use the information as part of their jobs—recruiters, for example—are granted access to personally identifiable information. Our employees must log in to a password-protected area to access this information. All employees are updated regularly on our security and privacy practices.
Visual and Audio Recordings
Tandym Group may record phone calls and video meetings (such as Teams meetings) conducted through Tandym equipment, devices, systems, and accounts. All audio and video recordings are used only for internal training, performance management, and internal investigation purposes. Recordings may be shared with third-party vendors or other third-parties the company engages to provide training, performance management services, and/or internal investigation services. Recordings may also be shared where required pursuant to a validly issued subpoena, court order, or similar legal or administrative process, to comply with applicable law or the company's legal obligations, or in cooperation with a law enforcement agency. Audio and video recordings are maintained in accordance with the company's internal records and data retention processes. Audio and video recordings are not sold, shared, published, or used for any other purpose except as outlined herein. By communicating with Tandym through a company number or through a Tandym account or other device, you are consenting to the company's recording practices.
Third Party Vendors
Tandym Group may use third-party vendors for marketing campaigns, which may require the company to disclose to such vendors the information and data it collects from website visitors. Tandym Group will take reasonable steps to ensure that such vendors comply with applicable privacy laws.
Children's Policy
Tandym does not intend to collect any personal information from anyone the company knows to be under the age of 18 years of age.
Site and service updates
Unless you ask us not to, we may contact you via email in the future with relevant content we think you would be interested in, updates to our company or changes to this privacy policy. Upon taking an action on our site, like applying for a job or signing up for an alert, you will receive an automated email confirming your submission.
About choices and opting out
You may opt out of any future contacts from us at any time. You can do this by unsubscribing via the link at the bottom of informational emails or by logging into your Job Alerts account and deleting your specific alerts.
Notification of changes in our policies
Tandym Group's privacy policy may change from time to time, and your continued use of this site following such changes signifies your agreement to abide by these changes in our privacy policy. We recommend that you review our privacy policy at regular intervals to make sure you continue to agree with its terms.
Protect your personal information
Your Job Alerts account is password-protected. The best way to keep your personal information secure is to keep your password secure. Don't give it to anyone. If you share your computer with others, we recommend that when your interaction with Tandym is complete, you sign out of your Job Alerts account and close your browser window. Further, check to make sure cookies do not retain your username and password, which could enable another person to assume your identity and sign on to your account. We make every effort to ensure that your personal information remains secure on our system. Through our SSL certified website, all data you give us is encrypted when transmitted between the web server and browser for additional security. Unfortunately, no data transmission can be guaranteed 100% secure. Therefore, we can't guarantee the security of any information you transmit to us; you transmit this information at your own risk. By using this website, you signify your assent to Tandym Group's privacy policy. If you do not agree to the terms of this policy, please do not use our website.
Supplemental Privacy Notice and Policy for California Residents
This Supplemental Privacy Notice for California Residents ("California Supplement") supplements the information in the Privacy Policy located at https://tandymgroup.com/privacy-policy/ and applies solely to California residents (as defined under the California Consumer Privacy Act, as amended by the California Privacy Rights Act, together the "CCPA").
Last Updated: July 19, 2023.
What Personal Information We Collect
The CCPA requires Tandym Group to disclose information regarding the categories of personal information and any sensitive personal information the company collects from California residents (which includes applicants, candidates, contractors, dependents, and employees), the sources from which the company collects personal information, the business or commercial purposes for such collection, how such information is shared, sold, or disclosed, and the mechanisms for California residents to exercise their rights under the CCPA.
Below is a table which provides information about Tandym Group's practices in the 12 months leading up to the effective date of this California Supplement.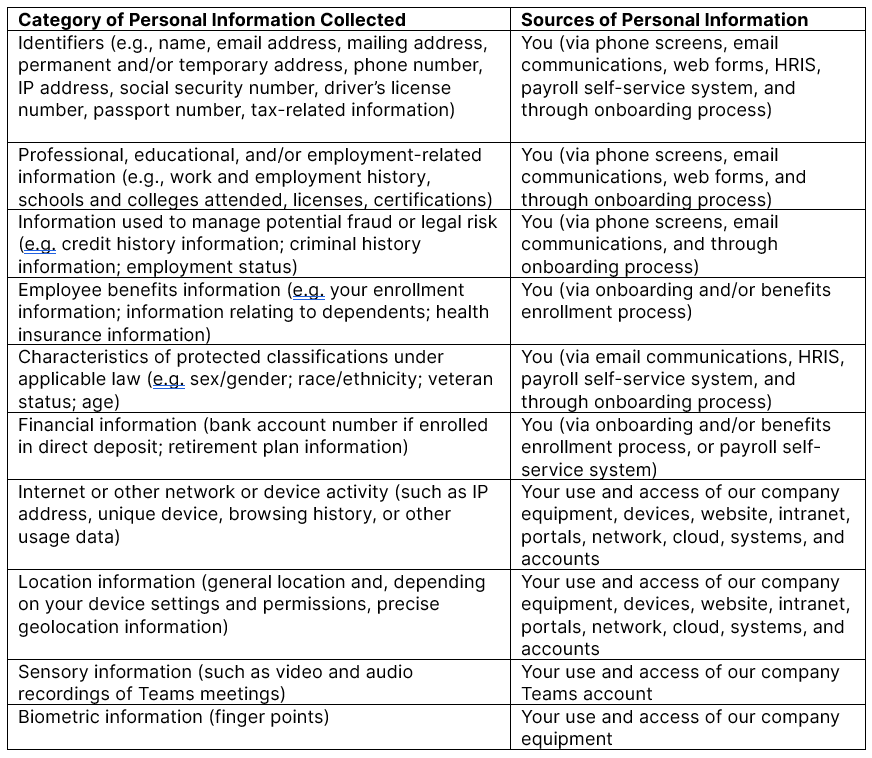 Tandym Group does not infer any characteristics about individuals based on sensitive personal information (as defined under the CCPA).
How We Use Personal Information
Any and all personal information collected by Tandym is used only for business and/or operational purposes. For example, we may use personal information for any of the following reasons:
General HR purposes
Payroll and timekeeping
Billing, accounting, auditing, and invoicing purposes
Administration and processing of any employee benefits
Recruitment, temporary staffing, and placement services
Internal record-keeping purposes
Marketing, publicity, and market research
Content and social media strategy
Candidate and client feedback for quality assurance purposes
Business development, research, and strategy
Resolve disputes
Enforce any terms of any company agreements
Respond to a subpoena, court order, or other similar legal and/or administrative process
Respond and/or to cooperate in any law enforcement investigation or similar
Comply with applicable laws and regulations
Retention of Personal Information
We will retain your personal information for as long as reasonably necessary and as required by applicable law. We also reserve the right to retain and use your information as necessary to comply with any legal obligation, resolve disputes, and enforce our agreements.
How We Share and/or Sell Personal Information
Tandym does not "share" or "sell" (both as defined under the CCPA) personal information.
How We Disclose Personal Information
We may provide personal information to clients, managed service providers, contractors and subcontractors as part of the company's recruitment, temporary staffing, and placement services.
We may also provide personal information to select third-party vendors engaged by the company to perform services on our behalf. Vendors provide a variety of services to the company such as, without limitation, the following services: payroll; billing; invoicing; timekeeping; expense management; market research; feedback survey; marketing campaigns; CRM; insurance; data storage, analysis, and processing; identity verification; fraud and safety protection; legal services; cybersecurity services; and HR services. Any agreements with third-party vendors and service providers will limit the kinds of information they can use or process and require them to use reasonable efforts to keep personal information secure.
Tandym Group may also disclose personal information for any of the following reasons:
Where required to comply with a subpoena, court order, or other similar or administrative legal process.
Where required by law or to comply with our legal or contractual obligations.
Cooperate with law enforcement agencies.
For marketing, publicity, and recruitment purposes.
To the extent needed to establish or exercise our legal rights, including, but not limited to, enforcing and administering agreements, or exercising our or defending against legal claims.
Where appropriate to investigate, prevent, or take action regarding possible illegal activities, suspected fraud, situations involving potential threats to the physical safety of any person, violations of any agreements or policies, and/or to protect our rights and property and the rights and property of others.
In contemplated or actual mergers, acquisitions, and/or partnerships, and other transactional situations involving any change in control.
We may also share personal information in other situations, after obtaining appropriate consent.
While these disclosures may be challenged, we may still be legally required to disclose certain personal information.
The CCPA provides you with the right to limit certain uses and disclosures of your sensitive personal information. We may combine the information we collect ("aggregate") or remove pieces of identifying information ("de-identify") to limit or prevent identification of any particular consumer. We may use or disclose aggregated or de-identified information in our discretion.
Your Rights Under the CCPA
If you are a California resident, the CCPA allows you to make certain requests about your personal information. Specifically, the CCPA allows you to do the following:
Request information about the categories of personal information we collect and disclose about you, the categories of sources of such information, the business or commercial purpose for collecting such information, and the categories of third-parties to whom we sell, share, or disclose personal information that is gathered and maintained in the 12-month period preceding our receipt of your request.
Request access to and/or a copy of certain personal information we hold about you.
Request that we delete your personal information.
Request that we correct any inaccuracies in your personal information.
Request to opt-out to any "share" or "sale" (both as defined under the CCPA) of personal information, however, Tandym does not sell or share personal information.
Request that we limit the use and disclosure of sensitive personal information, however, Tandym does not collect or maintain sensitive personal information (as defined under the CCPA).
You have the right not to be discriminated against for exercising certain of your rights referenced herein.
To exercise any of these rights, you may submit a request to privacy@tandymgroup.com or you can contact us using this toll-free number (888) 519-2080. You will be required to verify your identity before we are able to fulfill your request. You can also designate an authorized agent to make a request on your behalf. To do so, you must provide us with written authorization or a power of attorney, signed by you, for the agent to act on your behalf. You may still need to verify your identity directly with Tandym. Tandym shall confirm receipt of such request within ten (10) business days, and shall respond to a request to delete, correct, or know within forty-five (45) calendar days of receipt of the request. Such response time may be extended by another 45 days after we provide notice to you.
If Tandym determines in its sole discretion that a request from a person is manifestly unfounded or excessive (in particular because of their repetitive character), Tandym may charge a reasonable fee that accounts for the administrative costs of providing the information, or Tandym may refuse to act on the request. In the case of the latter, Tandym shall notify the consumer of the reason for such refusal. Tandym may also reject a request to delete if the company needs to retain personal information to comply with any applicable law or legal obligations.
All consumer requests shall be kept for at least 24 months (or a shorter period if permitted by applicable law).
Changes to the California Supplement
Tandym may, in its sole and absolute discretion, change this policy at any time. Tandym will post its updated policy on this website. We encourage you to review this policy and page regularly for any changes.
If you have any questions, you can send questions or comments about this California Supplement to privacy@tandymgroup.com.
Contacting this website
If you have questions about these policy statements, the practices of this site, or your dealings with this site, please contact:
Tandym Group
675 Third Avenue
5th Floor
New York, NY 10017
P: (212) 922-1001
F: (212) 922-0033
Contact Us