As layoffs continue to strike at organizations across the country, employees are getting nervous. Whether you've been personally affected or have lost beloved team members, it is difficult to understand how to move forward—and team morale can take a big hit.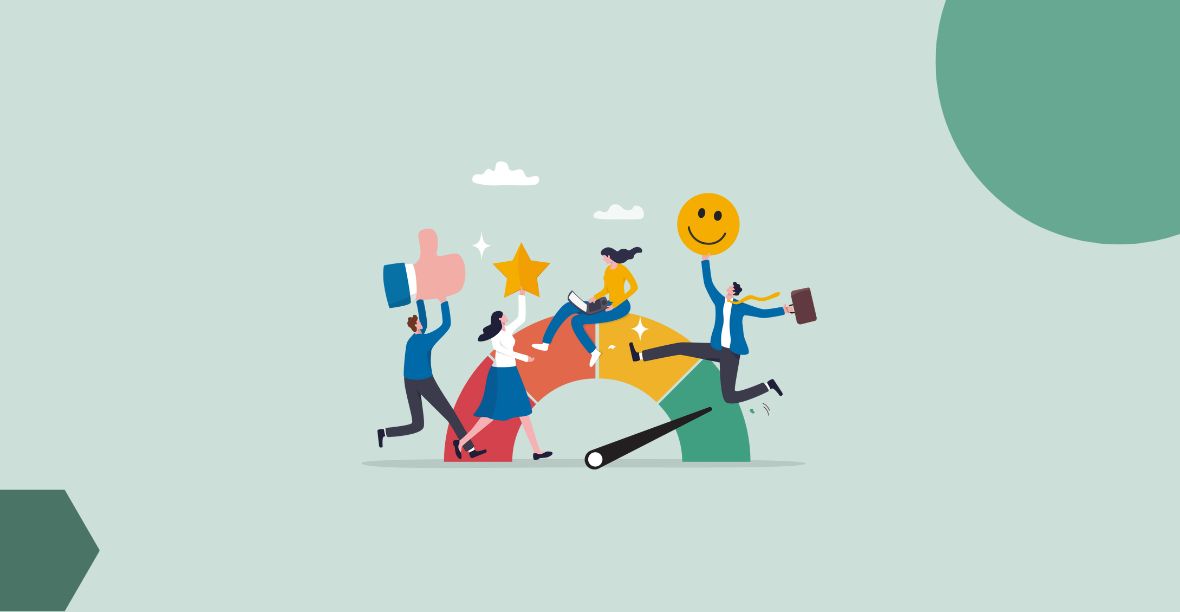 A primary reason for lower morale is that employees begin to feel like "just a number" to company leaders. When employees feel dehumanized or undervalued, they're less likely to feel motivated to perform their best. Not only is this an emotionally draining time, but there can be real effects across an organization due to low morale, including:
Decreased productivity
Profit loss
Increased conflicts
More accidents
Higher turnover
Difficulty attracting talent
Poor brand image
So, who's left to pick up the pieces after layoffs, and how can everyone move forward effectively? Not only does this take effort from everyone on the team, but it also requires skillful leadership to manage feelings, set expectations, and communicate clearly. Let's start with what NOT to do after layoffs hit your team:
What not to do after layoffs:
Ignore the reality: Your team will likely not be able to proceed with a "business as usual" attitude after a round of layoffs. Ignoring the situation can be perceived as insensitive, as well as inhuman.
Keep people in the dark: Employees after a layoff are often afraid they are next. The less information they have about what is going on at the organization, the more likely they are to panic.
Micromanage: You may be in a situation where you are responsible for managing different responsibilities or employees after a layoff. However, micromanaging employees at this time will not help you build the trust you desperately need.
Demand the same output: Regardless of who has left the organization, there are jobs that are being absorbed by the remaining staff. Requiring the same output is not realistic with fewer team members.
Panic: If layoffs are affecting your organization, you may be inclined to worry about your job security or how you can navigate this transition. However, being too vocal about your panic can spook the herd and create more chaos.
Keeping in mind what not to do, the next steps you take as a leader are critical to a successful transition. Morale will naturally take a hit, and moving through it is the only way out.
Step 1: Acknowledge what's happened
After a layoff, employees will need some time to understand and process what has happened. As a leader, acknowledging their reality and their feelings can be very cathartic. At this point in the process, you should be doing the following:
Over-communicate: In this situation, sharing what you know can help others process their own feelings. When employees get the full picture, they can better understand how they should move forward. Plus, when you need to build up trust, sharing as much information as possible will help you achieve that.
Offer reassurance: If employees are walking on eggshells, afraid that they are next to be let go, that is no way to work. If you know that your team is safe, be sure that they understand they're okay, and that they can take a breath.
Give space: Simply put, some team members might not be okay when they hear the news. Remind them that it's okay to be upset, and allow some space and time to process before getting back to regular activities.
Listen: There will be a lot of emotions to process as a team. Be sure that you are listening to the concerns your employees share and that you understand where those feelings are coming from.
Share your feelings: It can help employees process their own emotions to hear others express how they are feeling. This can help people feel less alone and know that you understand what they're going through as well.
Read Also: 4 Ways Companies Can Support Mental Health In The Workplace
Step 2: De-center work
It might seem counterintuitive to take the focus off work, but when you're processing layoffs, sometimes it's exactly what you need to do.
Remember that life goes on: Keep in mind that the only constant in life is change! Jobs and employees come and go; and when something feels like the end of the world, before you know it, you find yourself on the other side. So, it's worth remembering that it is just a job.
Focus on mental health: Without mental health awareness, it will be difficult to get through this transition. Let employees know that it's okay to be angry, sad, or anxious, and be open to making adjustments to accommodate your team in the short-term.
Take a break: When the overwhelm hits you too hard, be sure that you and your employees are given the space to take a break. Whether that's a 15-minute walk or an extra day off, stepping away from work can be an effective part of the process.
Take a step back: Be sure that you don't dive right into normal operations! If you have lost team members, you likely need to shift responsibilities around. Take the time to take a step back and evaluate the bigger picture.
Step 3: Communicate + listen
As you work to move forward with your team, building morale back up will take some time. While the path will look different for each team, taking these steps will help:
Evaluate team bandwidth: After losing employees, someone will need to absorb their work. If you haven't yet, get a full understanding of each person's workload, as well as the tasks that need to be picked up. Additionally, see if any responsibilities can be removed from your team as a result of the reduction in force.
Listen to each employee's concerns: Take the time to speak openly with everyone, and be sure that everyone is given a chance to voice their questions and concerns.
Ask for feedback: During this time, a lot of decisions will need to be made. Be sure that your team is along for the ride and ask for feedback throughout the transition.
Find growth opportunities: While it is difficult to process, this period can also hold a significant growth opportunity for each employee. Look for ways you can help employees stretch a new muscle and find new things to enjoy about work.
Explore new ways to collaborate: Similarly, this is the time to find new ways to do things—something that used to be done in a vacuum could become a more collaborative process.
Offer autonomy: As a leader, you may want to exercise control over everyone's work. However, if someone could handle their work without oversight before, this is still the case. Trust your team to deliver the results they have always given and focus on real challenges.
Celebrate individual efforts: After a layoff, every employee has a sense that they are just a number to the organization. Be sure that you take the time to celebrate individual contributions to the team and let each employee know that you value them as a person.
Build trust: To make it through this transition as a team, having trust in each other is critical. To start, be sure that you say what you mean—and follow through on your promises to employees.
Practice transparency: Continue being honest with your team about what you know and how you're approaching situations.
Practice flexibility: When everything is in flux, it's important that you are able to go with the flow. Not everything is going to go the way you anticipated, so be ready to adjust—and be kind to your employees when they ask for flexibility.
Infographic: 4 Strategies To Engage & Empower Employees At Work
Step 4: Organization-wide leadership
If you're looking for ways to build morale throughout the company, get the support from other leaders to help you implement some of the following morale-boosters:
Employee incentive programs: Incentive programs can come in different shapes and sizes. If you go big, you might organize an incentive trip for high performers. However, if you want to incentivize employees on a smaller scale, you could look at platforms like Bonusly to implement a regular incentive.
On-site upgrades: Having a comfortable space to work can help keep employees focused and incentivize them to show up as their best selves. This could include big upgrades like new desks or collaborative spaces, or it could be as simple as offering coffee or snacks.
Offsite activities: As always, team building activities outside of the office can be an effective way to build comradery. Whether it's a simple happy hour or an elaborate escape room, it's easy to bond with each other when you get outside of the office.
Tech stack additions: When you're looking to improve morale, take a step back to see how you can improve a typical workday for your employees with tech investments. Offering best-in-class tools can allow staff to continue growing their skillsets and remain competitive in their career.
Wellness offerings: Committing to supporting mental health can look different for every organization. Wellness can be incorporated into your formal benefits, or even simply supporting the idea of a "mental health day" can be effective.
Flexible hours: Whether employees work in different time zones or have family responsibilities, flexible hours policies can help employees get work done on their schedule while still meeting business goals.
No meeting days: Many companies have implemented "No meeting" day policies, ensuring that employees have a day dedicated to getting work done, rather than the grind of back-to-back meetings.
Compensation + benefits: After a round of layoffs, there may not be room in the budget to increase compensation for employees. However, when employees have absorbed new responsibilities, you may risk increasing turnover if you don't pay the market rate for those skills.
Conducting "Stay Interviews": Depending on your human resources capabilities, conducting "stay interviews" can help organizations learn why employees stay with the company. Ask questions like, "What keeps you here?" or "If you could wave a magic wand, what would you change?"
"Human" leaders at every level: Morale at a company is often set from the top down; if leaders throughout the organization have the right attitude, this ripples down through each team. Following company values and remaining empathetic to employees can help set the right tone.
Opportunities for loud recognition: If there is an opportunity to make employees feel less dispensable, highlighting individual or team wins throughout the company can help employees feel valued for what they bring to the table.
Management training: A common misstep that organizations make is not providing management training to new people managers. Many employees are promoted to management without a roadmap, which can lead to ineffective managers and higher turnover.
Professional development programs: In addition to teaching management skills, providing resources for other professional development opportunities can not only keep skills up to date, but also bring new ideas and innovation to the business.
Read Also: How To Prepare Employees For Leadership Roles
Step 5: Mental health + moving forward
Keep in mind that morale is an ongoing practice. One event or upgrade is not likely to keep your best employees around after a layoff. Morale starts with making employees feel valued, and direct supervisors and team members often have the biggest impact on that. As you move forward, keep up the following practices to keep morale high:
Look for burnout: Especially after a force reduction, team members could be at higher risk for burnout. Try to stay in tune with how employees are feeling and look for signs of overwhelm before it gets out of hand.
Regular 1:1 meetings: Continue checking in with employees regularly. Holding one-on-one meetings allows you to understand each employee's workload, challenges, and goals.
Celebrate wins: Any individual or team achievement should be celebrated! There is no better way to boost morale than to show your gratitude for someone's hard work.
Promote work-life balance: Work-life balance and flexibility is a regular practice. Be sure that employees know that you see them as a human with responsibilities and goals outside of work.
Continue listening: Building morale always starts with understanding why morale is low. Don't stop checking in with team members about how they are feeling about their job and what they feel could be improved.
No effort is too small: When morale takes a big hit, it might feel like you need a big gesture to get back on track. However, small actions will often feel the most genuine. As long as you continue showing up for your team, that's enough.
Read Also: How To Foster A Culture Of Inclusion And Belonging In The Workplace