Nurturing an environment that embraces inclusivity and diversity transcends mere good practice—it is an absolute imperative for organizations aspiring to foster a sense of worth and celebration for every individual. As we honor the spirit of PRIDE month, we embark on a profound journey, delving into the experiences, challenges, and aspirations of our remarkable employees who stand at the forefront of Tandym's PRIDE Employee Resource Group (ERG). Their stories not only illuminate their personal journeys but also underscore the transformative influence that PRIDE has had in cultivating a culture of acceptance and inclusiveness within our organization. With great admiration, let us now introduce you to the exceptional leaders of Tandym's PRIDE ERG!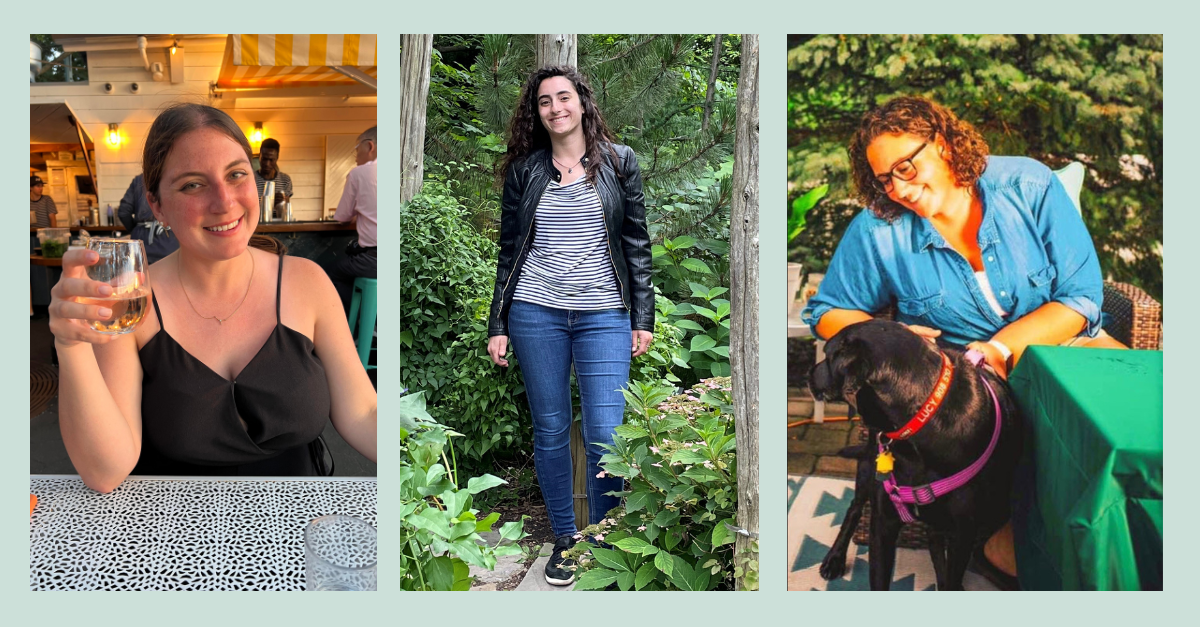 Who are you?
Cat Tacopina (Senior Marketing Associate): I grew up on Long Island, NY. I graduated from SUNY New Paltz and started my career in marketing at Tandym right after college. I'm known for publishing job descriptions, writing blogs, and handling social media content. I've been fortunate to stay with the company for eight years because I genuinely enjoy working here.
Rebecca Guerrero (Managing Director, Healthcare): I grew up in Florida, where my backyard was pretty much the Everglades. I joined Tandym straight out of college and had no idea what a staffing firm was. I came on and joined the Healthcare team as a Recruiter back in 2016. I did that for two years and then moved into Account Management for another two years. Throughout the pandemic, the Healthcare team had grown drastically. We developed a footprint across the country, especially in new markets like the Midwest and West regions. As our team grew, they wanted a physical presence in California. They approached me about my current sales role and now I am in our Los Angeles office helping us expand in the West.
Megan Ksenzakovic (Vice President, Strategic Accounts): I moved frequently due to my father's employment with Goodyear, living in various states such as Maryland, North Carolina, West Virginia, and Texas. I've been in staffing for 22 years and began my career with Adecco before transitioning to ProUnlimited for 11 years. Eventually, I was recruited by a former client to manage their program, gaining 8 years of experience in client-side management. I joined Tandym in 2022 and have been enjoying it ever since.
How did you become a leader for the PRIDE ERG?
Cat: When the company decided to officially launch their DEI committees, I approached a leader expressing my desire to contribute to an ERG as a gay individual and offered to take a leadership role if needed. Reflecting on my own experiences as a new employee, I knew this would be really beneficial for the company. Despite no one making me feel excluded, I noticed the absence of openly queer individuals at the company, which made me feel somewhat like an outsider. Being one of the few openly queer individuals at a new job right out of college can create feelings of loneliness and fear, hindering open communication with coworkers.
What is the most memorable PRIDE event or activity that you've been a part of?
Rebecca: Growing up where I did in Florida, the LGBTQ+ community wasn't a visible thing like in other parts of the country or world. I didn't really have any other people I knew in my life that were a part of the community, so I've actually never done an outside Pride-based activity. This ERG was actually the first time in my life that I've ever dove headfirst into community-related activities or talked about it so openly and frequently. Even the start of our PRIDE book club was something totally new to me. We read a book where the main character was also gay and grew up in a southern town. That in itself was the first time I ever read a book where the main character was gay. So for me, everything this PRIDE ERG is doing is pretty much a first for me. I'm actually going to be attending the Pride parade here in LA for the first time. It will be the first Pride parade I've ever attended, and I volunteered to do "Moms for Free Hugs." So, I'll be giving out hugs all day.
What initiatives or programs has the PRIDE ERG implemented to support the professional development of LGBTQ+ employees?
Meg: When I joined the PRIDE ERG, they had activities planned for National Coming Out Day last October, which inspired me to initiate the parent support group. Personally, it was challenging for me to navigate my child's journey and life trajectory within the LGBTQ+ community. For parents who are unfamiliar with the community, hearing this from their child can be quite shocking. Understanding your own path as an adult is one thing, but supporting and understanding your child's journey is an entirely different experience.
If the PRIDE ERG had a theme song, what would it be and why?
Cat: If we had a theme song, there are two options that come to mind, although they may seem cheesy. "I'm Coming Out" by Diana Ross, as it's a queer anthem and fitting for an emerging ERG. Another option is "Get On Your Feet" by Gloria Estefan because we consistently organize meetings and events, making things happen.
Rebecca: "Divisionary" by Ages and Ages because it just makes sense. 1.) It's an awesome song and 2.) it describes something very simple: doing the right thing.
Meg: "Sing" by Pentatonix. Only because it's very in your face. We're here and it has the theme that everything is going to be all right.
Who would be your ideal speaker at a PRIDE ERG event and why?
Cat: I'd pick Billie Jean King. I'm always really fascinated by marginalized people who have seen such a dramatic shift in how society views them during their lifetime, and at a firm that has so many women, would really want her insight on life and community in general.
Rebecca: It doesn't play into the PRIDE specifically, but there are a couple of psychologists, named Michelle Gelfand and Angela Duckworth, that would be excellent speakers on cultural psychology. I think before people can understand the LGBTQ+ community specifically, it's important for us to understand humans and individuals in general. I think they'd be able to help with those first steps.
Meg: Billy Eichner is someone who I've been watching a lot right now. He was one of the creators of the movie "Bros" and I've loved him since "Parks and Rec" and "Billy on the Street." To bring someone like him, with name recognition from the community, to come and speak could add humor to the meetings and would make some topics more relatable and easier to embrace. His authenticity and light-heartedness mixed with his silly sense of humor make him a great, recognizable spokesperson for the community that I think would win our employees over.
If the PRIDE ERG could organize a dream vacation for its members, where would you go and why?
Cat: I've always wanted to go to the PRIDE parade in Sao Paolo, Brazil. It's legendary and I think everyone would have fun. Plus, Brazil is beautiful, and everyone deserves a vacation.
Rebecca: That's a tough one, but I would love to do one of the LGBTQ+ tours in Greenwich Village. We looked into it a while back and it's pretty feasible. The tours focus on historic LGBTQ+ sites throughout the West Village, especially where the Stonewall Riots occurred.
Meg: The Amalfi Coast. Equal parts because I'm Italian and I've always wanted to go – especially to Positano. With international travel, it's important for us to travel to somewhere we'd feel safe. That area of the Mediterranean region is accepting. Not to mention the food.
What are your goals for the PRIDE ERG (and the company as a whole) for the rest of 2023 and beyond?
Cat: I would like to continue growing our membership. It goes back to my main goal when I first started: I don't want anyone to feel the way I did when I first joined. I want someone to come in and see that we have a very active PRIDE ERG that is compassionate, supportive, and caring.
Meg: After utilizing our budget for guest speakers and PRIDE month activities, I am eager to explore possibilities for further expansion in the upcoming years. In particular, I envision organizing a meaningful activity to provide support for parents during National Coming Out Day in October.
What LGBTQ+ show or movie would you recommend to someone at the company?
Cat: "The Birdcage" and it's not just because it's one of my favorite movies and it's one of Robin Williams' most underrated roles. It's because it does an excellent job highlighting the similarities that two completely different families (one straight marriage and one gay marriage) ultimately act the same way.
Rebecca: "Schitt's Creek." It was the first show I've ever watched with prominent LGBTQ+ characters. It's so funny and emotional. I've heard "Modern Family" is good too. I have to start that next.
Meg: I really liked the Billy Eichner movie "BROS." It's hilarious and there's something for everyone in it. But on a more engaging and learning level, the seasons on Netflix's of the new version of "Queer Eye" are truly great. They meet so many different kinds of people and they address more than just the room, make-up, clothes, etc. If you're trying to understand the community, watch these people go into someone's life and change them for the better. It's beautiful stuff.