You pass them in the halls, see their faces on Teams calls, and exchange emails. You know their job title and department and might even know their extension by heart. But do you truly know who you're working with? Get to know the Vice President of Tandym Tech, Brian Bula!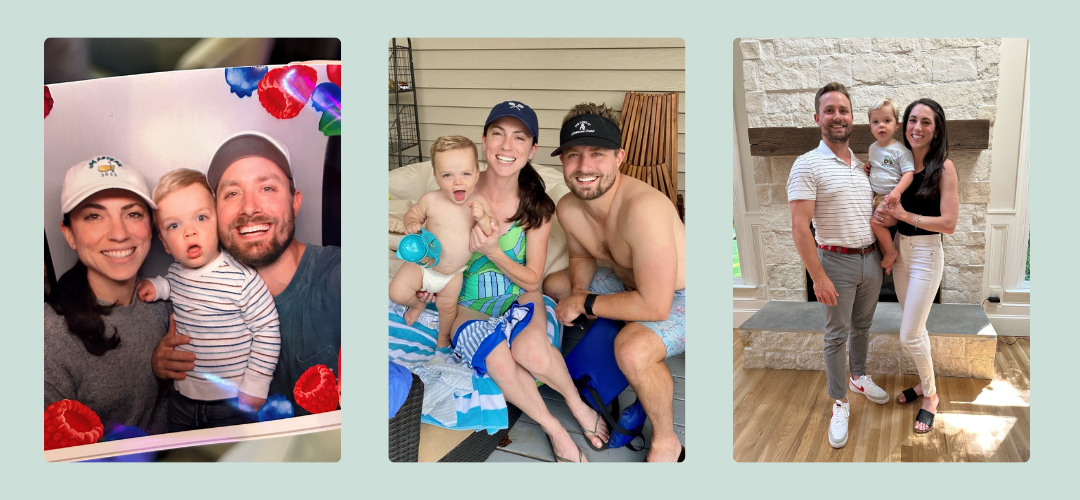 Who are you?
I grew up in a town called Derwood, right near Rockville, MD and 35 minutes outside of Washington, D.C. I lived there with my mom, dad and younger sister up until college when I went down to the University of South Carolina. I wasn't sure what I wanted to do when I graduated, so I went back to the job I had growing up: caddying. I was content doing that for a while, but my girlfriend (who is now my wife), told me I needed to get a "real job."
I interviewed at a few places before I landed with Metro Systems, a tech staffing firm that was acquired by Tandym in 2022. I began excelling immediately and eventually was given the opportunity to start building my own office in North Carolina. It was great because my wife and I had recently visited Charlotte and absolutely loved it. Not to mention, it's close enough to the University of South Carolina to get in a few football games every year. We officially moved down in January 2016 and the office opened the following month. Right now, it's me, my wife, my 2-year-old son Bennett, and our dog Sailor – which is ironic because he absolutely hates the water.
Who were your inspirations / heroes growing up?
This might be a little deeper and heavier than most answers you get for this question, but I had an older sister who had brain cancer and passed away at a young age. She battled with it most of her life but was always in good spirits and such a gracious person. It made the simple, happy things seem a lot bigger than the day-to-day things we normally have to deal with. She was, and will always be, a huge inspiration for me when things get tough. Growing up with the understanding that things can always be harder helps mold you properly. My parents are up there as well. They, along with my sister, helped me understand that you've got to play the cards you're dealt with and make the most out of the situation. That's how I live my life.
You can only listen to one artist / band for the rest of your life. Who's it going to be?
I kind of already do that. I love good music of all different varieties, but I listen to 3 bands on loop: O.A.R., Greta Van Fleet, and Hootie & the Blowfish. Of the three, I'd have to go with O.A.R. They grew up 10 minutes from where I'm from, so I could always relate to all their songs and know all the references to places in the area. Zac Brown Band is up there too. I go to at least one of their concerts every single year and it's always a great time. But if I'm only listening to one band forever, it's O.A.R.
What is your hidden talent or a fun fact that most people wouldn't know about you?
I've got two different answers. The first, I don't think anyone would guess this one from looking at me, but I'm a huge gamer and I am actually pretty good. I'm not at a professional-level like these Esports guys, but I'm definitely way above average. I'm not sure if that's a fun fact or hidden talent, so I'd say my real hidden talent / skill is my relatability. I can always find common ground with the people I'm interacting with, whether in or outside of work, and it's helped me advance in this career exponentially.
If you could send your younger self a message lasting only ten seconds, what would it be?
Honestly, it'd be something along the lines of keep doing what you're doing. I know that's not 10 seconds long or even 10 words long, but I'm pretty proud of where I am right now. I know I've made mistakes along the way, but I wouldn't change them because of everything I am and have now. So, I'd encourage myself to keep it up because things are going to work out better than I would have expected.
How did you get into Tech staffing?
I was a poly sci / criminal justice major in college and always figured I'd go right into law school. Then I realized that I hated reading, hated studying, and didn't want to sit behind a stack of legal papers on my desk all day. I loved caddying and always wondered, "how could I spin this off into a career?" I loved being outside and mingling with people who had money to spend, so I started looking into sales roles. I wanted to use my personability to my advantage and began looking at opportunities around D.C. and NYC (for my now-wife).
The first interview I had was with Ricoh Printers on the 55th floor of the Penn Building in Manhattan. Funny thing: I'm really afraid of heights, so that was not going to work for me. Next, I interviewed with a staffing firm, and while I didn't take the job, it introduced me to the idea of staffing as a career—something I never contemplated or even knew existed. I eventually interviewed with Metro Systems, which was located in D.C. and had a staff of 10 people at the time. I started off in recruiting and after 6 months quickly moved into a sales role. My now-wife eventually moved down to D.C., and then together, we moved down to open the Metro Systems branch in Charlotte. I had been actively selling in that area for quite some time and overseeing long distance selling initiatives, so the transition was seamless.
If you could do any job in the world other than the one you currently have, what would you like to do?
I would love to be a golfer, but I'm nowhere near good enough to do that. Let's just go with being a caddy on the PGA tour – especially if you're caddying for a good player. You get to hang out on a golf course all day and you get a percentage of whatever your golfer wins. That'd be a fun life to live.
What was your first impression when Metro Systems was acquired by Tandym? And what value and benefits have you seen via the acquisition?
My first impression was that I was so excited to work with a guy like Dave Muller. Upon meeting him, it was evident that he was extremely successful and knowledgeable about the industry. I also loved that we were joining a bigger company that would give us the luxury of having Legal, Marketing, and other support teams that would help sales and support our business. Now that we're getting closer and closer to full alignment with Tandym operations, we're starting to reap the rewards of each other's hard work. We're purposely taking our time to ensure we get it right, but I'm excited to see all that we will accomplish once we are fully transitioned. It's going to be amazing!
If you were a superhero, which of your coworkers would be your sidekick, and what powers (or skillsets) would each of you have?
The easy answer has to be Superman, right? You can do everything with super strength, flying and all that. For my sidekick? I don't know. I think maybe Corin Best, but I wouldn't want her to be my sidekick. I'd rather she be my counterpart. I would want her to have the same level of power as me, but in an opposite way that would complement mine. Like in this industry, you can't have fulfillment without sales and sales without fulfillment. You don't necessarily see Account Managers thinking of Recruiters as sidekicks or Recruiters thinking of Account Managers as sidekicks. You have to be on the same playing field. And I think that's how I want my relationship with my "sidekick" to be. You don't see them as second fiddle (not to mention, Corin won't play second fiddle). It's more of how we can get this job done together. Superman AND Superwoman is fine with me!
What are your goals for yourself and the Tech team for 2023 and beyond?
For 2023, I'd love to see continued growth across all accounts. The current economic outlook has made it an interesting time to be in this industry. We've seen less job orders come through this year; however, we've been really capable of getting better commitments from our current clients and building deeper relationships to make up for it. We're actually filling a higher percentage of the jobs that we're getting!
We haven't grown a ton in headcount, but in terms of everybody's capabilities, we've all gotten a little bit better, a little bit stronger, a little bit faster. And I think all of that leads to more success. We have to keep on building on all that momentum. For beyond? Maybe a great long-term goal for myself is to eventually get to Dave's level. That's a pipedream for now, but I'm going to continue to put in the time and work to get there someday!
If you had to be stuck living in a TV show for a month, what show would you pick and why?
My mind originally went to Breaking Bad or Better Call Saul because I love those shows, but not sure they're the best worlds to live in for a month. The obvious answer is Ted Lasso. I don't know much about soccer, but I wouldn't mind hanging out in a pub and learning about it with a bunch of friendly people. Honorable mention: Emily in Paris. Let's be serious: living in Paris and having chocolate croissants every day for breakfast and a nice glass of wine with lunch. I guess you can do that in real life, but it'd be frowned upon.