Tandym Health recently welcomed Dr. Vincent Siasoco, Medical Director of ADAPT Community Network, to lead an educational seminar on the needs of the intellectually and developmentally disabled population. As a long-term partner of ADAPT, our team was eager to learn more about how we can better support the needs of ADAPT and its patients.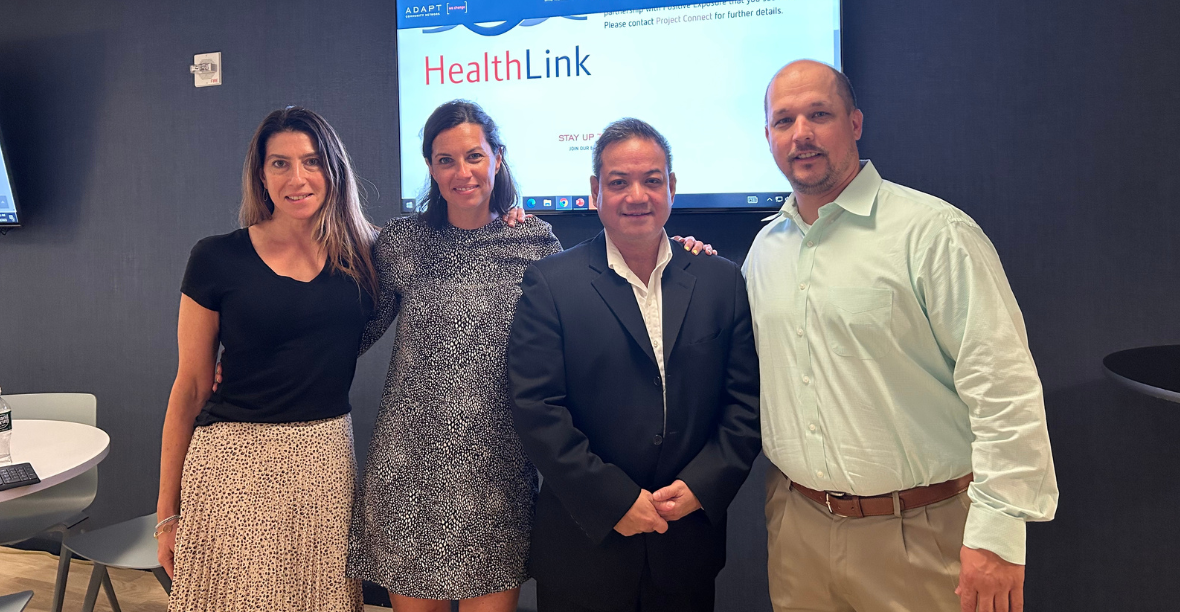 ADAPT and their mission
ADAPT Community Network is a leading nonprofit agency in New York providing direct services, technology, and advocacy to children and adults with intellectual and developmental disabilities (IDDs). They offer over 75 comprehensive programs, including medical, clinical, educational, technological, residential, and rehabilitation services, to over 14,000 residents throughout New York City and the Hudson Valley. They are comprised of 1,500 trained and dedicated individuals ready to serve the needs of their patients, including some who have disabilities themselves. For Dr. Siasoco, this has always been his passion.
"I've been working with patients with intellectual and developmental disabilities for as long as I can remember," recalled Dr. Siasoco. "My experience with individuals within the IDD population started in college. I volunteered as a coach for the Special Olympics, and I worked as part of the staff in group homes throughout Long Island. I just fell in love with this work. While finishing up medical school, I knew I wanted to focus on this patient population during my residency in Family Medicine."
However, finding a clear-cut path to learn how to specifically work and provide care to the IDD population was harder than it should have been.
"I had to call different disability agencies to see if I could chat with their doctors," said Dr. Siasoco. "Every time I'd call them and ask if I could shadow them, there would always be a 5 to 10 second pause of silence as if it were a prank call or something. I had to reassure them that I was genuinely interested in learning about their patients with Autism, Down Syndrome, and other disabilities of that nature."
As the world's population grows, so will the number of individuals in the IDD community as well as their specific healthcare needs. This has strengthened Dr. Siasoco's commitment to serving the IDD population.
"Unfortunately, data from the last several years has shown that individuals with intellectual and developmental disabilities have higher than average rates of chronic conditions, difficulty in accessing care, hospitalizations, and preventable medical problems," revealed Dr. Siasoco. "Although these individuals are living longer than they have at any other time in history, research has shown they're still dying on average about 20 years younger than the general US population. Unfortunately, there are a lot of barriers for them to reach optimal care and this can have damaging consequences for this population."
How Tandym can help
Passionate about breaking down these barriers, Dr. Siasoco visited Tandym to educate our team on the health climate that these patients currently face and the specific health needs of this community.
"Meeting and listening to Dr. Siasoco was a great experience for our entire team," said Amanda Cruse, Senior Managing Director. "He really broadened our understanding of the needs of the IDD population and how healthcare stereotyping can negatively impact patient outcomes."
His vast achievements in the field and lifelong commitment to working with the population are very admirable. But it was his personal story and experiences that really captivated the Tandym audience and helped illustrate the importance of equal healthcare opportunities for the IDD population – especially when he highlighted the obstacles in their way.
"Barriers to care, can be physical, including a lack of architectural accessibility and a lack of medical equipment," said Dr. Siasoco. "Other barriers include communication, policy, social, attitudinal, inadequate provider training, and most commonly, diagnostic overshadowing. This is when medical professionals attribute the condition of concern to disabilities and/or psychiatric diagnoses. Rather than doing a full evaluation and trying to identify what the cause of the issue is, some medical professionals will overlook it and assume the problem has to do with their preexisting conditions."
Dedicated to their patients, ADAPT was able to secure a grant through NYS that has established a HealthLink program with the intent to educate and train healthcare professionals and students on how to provide quality care to this underserved population. A quick visit to Tandym is just another stop on his journey for equal healthcare opportunities for his beloved patients.
"As you go out and help to try to recruit candidates for ADAPT, just know this: it's one thing to see a CV. And I know this is a challenge, but it's even more important to try and see if these professionals have what it takes to work with these individuals," advised Dr. Siasoco. "You must really understand what's going to be involved. That's extremely important because the staff that you send our way should be individuals that are ready and willing to develop a bond with these patients. If you don't have the heart and the passion, it may not be the right fit to work with somebody with an intellectual or developmental disability."
The presentation was the first in a series of conversations that Tandym Health will be hosting over the next few months. This series aims to provide Tandym with a chance to enhance connections with their longstanding clients and create curated experiences and solutions that better meet their needs.
"Having partnered with ADAPT since 2009, being part of HealthLink has been incredibly fulfilling. We've also had the privilege of visiting all of their locations and meeting with their staff and individuals. This has given us valuable insights into how Tandym can contribute to spreading awareness," said Jill Bragg, Senior Vice President. "Opportunities to truly comprehend the unique needs of children and adults within the IDD population are limited for staff at all levels, as well as the broader medical community. By focusing on empathy and furthering our knowledge, we look forward to continuing to be a champion for the IDD population and strengthening our collaboration with ADAPT."