You pass them in the halls, see their faces on Teams calls, and exchange emails. You know their job title and department and might even know their extension by heart. But do you truly know who you're working with? Get to know Lisa Drew, Senior Managing Director of our internal IT team!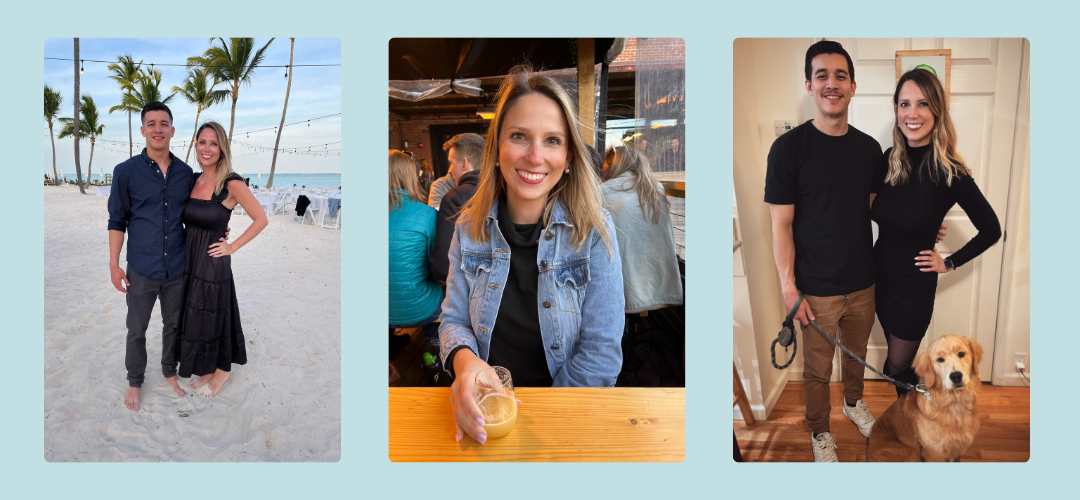 Who are you?
I'm originally from Edison, New Jersey but grew up in Houston, Texas because my dad was in the oil and gas industry. I moved five times before the age of 14, from New Jersey to Texas, back to New Jersey and then to Belgium before settling back in Houston for high school and college. At Texas State University (go bobcats!), I double majored in drawing and art history with a minor in business. My dream was to work at the Guggenheim, so my intention was to work at a gallery after college to make progress toward that goal. However, I quickly realized that the starving artist life was not for me, so I fell into the recruiting industry.
What was the best part about living internationally while growing up?
I went to middle school in Belgium, and that is where I met my now husband. In the 7th grade, he dated all my friends, but I always had a crush on him. We remained friends when I moved away, and reconnected later in life when he was competing on America's Got Talent in Las Vegas. He actually finished in the top 3! We've been together ever since. We currently live in Fairfax and have a rambunctious golden retriever named Bodhi.
What is a fun fact or hidden talent about yourself?
I think most people wouldn't know that I'm a good artist and that they'd be surprised to find out that I even graduated with a degree specializing in oil pastel art. The only time people ever really comment on my abilities is when I go to a Paint & Sip and post it on Instagram. I actually tried to get a job as a Paint & Sip artist when I lived in Hoboken for some extra cash influx, but I didn't have a car and I needed one to lug all the stuff around.
If you could create your own national holiday, what would it be called and how would people celebrate it?
I do think the day after the Super Bowl should be a national holiday. People deserve to fully enjoy going all out for the game without having to worry about being tired the next day at work. On top of that, I think people should be able to get the day off for their birthday every year to celebrate themselves and enjoy it. Spend it however your heart desires!
If you had to be on one reality show, what would it be?
We both know I'd like to think I'd be able to compete on MTV's "The Challenge," but let's not kid ourselves. I wouldn't get through that final challenge and would probably get into an argument with one of the girls before even getting there.
I'd probably be a Real Housewife – because you literally just get paid to be on TV and all have you to do is let a camera follow you around. If there was a Real Housewives of Northern Virginia, I'd sign up. I know it's the year of "Scandoval," but let's go with the Real Housewives franchise.
Did you find Tandym or did we find you?
Tandym found me. I was working at another staffing company down the street from Tandym in NYC and the Talent Acquisition team reached out to me at the perfect time because I was at a bit of a crossroads with that company. I didn't know if I wanted to stay or go. They made the call, and everything seemed to work out just right, so I came on board.
In what fictional world do you think you'd be able to survive the longest: Jurassic Park, The Walking Dead, or Alien?
I haven't seen "The Walking Dead" or "Alien." I've only seen "Jurassic Park," but I'm confident I wouldn't be able to survive in any single one of them. I mean, maybe I can run through the woods and stuff. But I don't think I can trust myself not to do something erratic under pressure. I could see myself trying to confront the dinosaurs and trying to convince them not to hurt me. That wouldn't end well. And "The Walking Dead?" That's like "The Last of Us" right? Yeah, I don't want any part of that. I don't even know what "Alien" is, but that's also not for me. Can't I just be on a beach somewhere?
You've worn many hats at this company (workforce solutions, tech recruiting, now internal IT). How did all that come to be, and how have you been able to seamlessly transfer roles without skipping a beat?
I decided to go into tech recruiting after being an Account Manager for a new challenge. My dad's been in IT throughout his career, and I saw the market moving toward that. I actually made that change within 6 months of being with the company. I was on that team for 4 and a half years, and really enjoyed it. I moved into operations in 2020 at the suggestion of our former CEO—he saw it as a good growth opportunity for me.
I've always tried to take what I've learned in previous roles and apply that knowledge to the next one. This helped me move into management roles and gave me the confidence I needed to jump into operations. I was originally really nervous about making that transition because it was brand new to me. The key to building my confidence was remembering that I had all these foundational skills that would help me excel in new situations. I don't feel like I've ever been like, "This is my job description and this is the only thing that I'm going to do." I've never tried to pigeonhole my skillset, which helps me tackle any challenges – familiar or new.
You've been tasked to enter a food-eating competition. What can you eat a large amount of in a single sitting?
I'm torn. Okay, don't judge: homemade beef-a-roni (not the Chef Boyardee), general Tso chicken & fried rice, or garlic mashed potatoes. I loved beef-a-roni growing up. My mom didn't cook anything extravagant – mostly just simple things like that. I could eat so many bowls of it. I would eat triple the number of bowls the rest of my family would have any time she made it. General Tso and fried rice are just my favorite foods ever. I can eat pounds of it. And garlic mashed potatoes are just so good. I went crazy on a bunch recently at Del Frisco's, where I had to have an internal conversation with myself to stop eating them.
What are your goals for the IT team for the rest of 2023?
For the rest of this year, we're focused on aligning our processes across the entire company. We want to make it so that anyone, no matter what vertical, is learning the same universal processes and leveraging our tech in the same way.
You have to rap an entire rap song and get 80% of the lyrics right. Which are you choosing and why?
"Mesmerize" by Ja Rule & Ashanti because I can sing that song at any time or any place. Like even right now! ("please don't" – Eddie R.) When I sing that song at karaoke, I make it a point to not look at the screen for the lyrics. I want the crowd to know how much I know that song. Fun fact: my husband and I walked down the aisle to the violin version of that song.